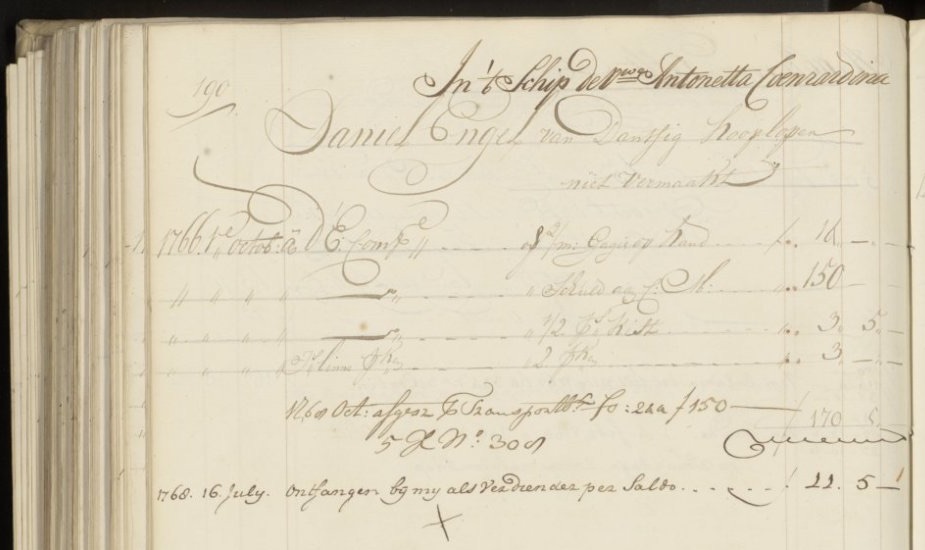 Data: VOC maritime personnel records
Our research on the careers of maritime workers is based on a number of data sources, which we'll introduce in separate blog posts. First up is a database containing the maritime personnel records of the Dutch East India Company (VOC).
In the period 1602-1795, just under 5,000 Dutch East India Company ships sailed from the Dutch Republic to Asia. Each of these kept a pay ledger, in which personal particulars and salary information for all paid crew members were registered. Not all pay ledgers have survived until today, but for the late 17th and, especially, the 18th century, the ledgers give a very good view of the (highly international) workforce of the company.
All 774,200 records in the surviving ledgers were entered into a database in a collaborative project in which a number of archives (Delft, Rotterdam, Zeeuws archief, Westfries Archief) and the history departments of Leiden and Ghent universities participated. The database was subsequently published on the website of the Dutch National Archives.
Daniel Engel from Gdańsk
Each record contains, among other things, data on a sailor's name, place of birth, rank on board, as well as start and end dates of the employment, and the reason why the employment ended. The image above (large version) shows the entry of Daniel Engel from 'Dantsig' (modern-day Gdańsk in Poland), who signed up with the Delft branch of the VOC on the first of October, 1766. He worked as an ordinary seaman during the seven-month journey to Batavia (now Jakarta), stayed there for nine months and then sailed back to Europe on the same ship. He was paid 7 guilders per month by the company. Engel was probably illiterate, as he signed with a cross.
150,000 uniquely spelled birth places
The pay ledgers were literally transcribed, resulting in the fact that the database contains more than 150,000 unique place name attestations. The Hague occurs in no less than 333 variations.
When a sailor survived the journey to Asia and back, and later re-joined the VOC, a new entry in a new pay ledger was made. Therefore, to reconstruct careers from this database, we had to link records that are (in all likelihood) related to the same individual. To facilitate the linkage (we explain our linkage methodology in this post) we tried to standardize as many place name attestations as possibly—mostly by hand. We will share the standardized birth places of more than 80 percent of the records (reconciled to GeoNames and thus also geo-referenced) at a later stage; plotted on a map, they look like this: