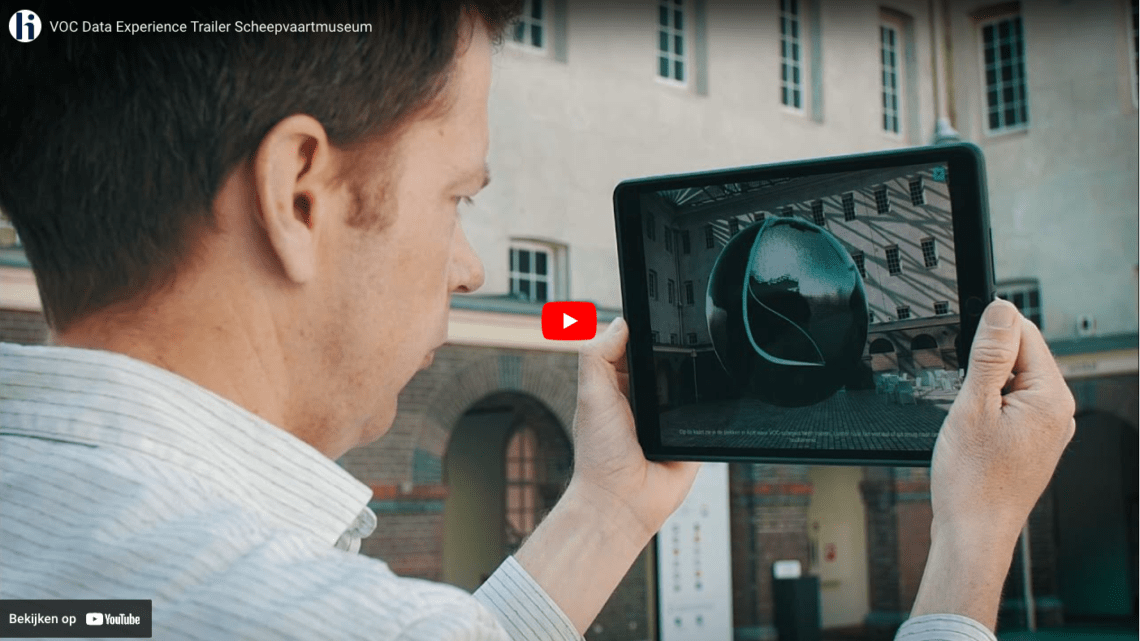 We have frequently written on this site about our research on the crews of the VOC. In the VOC Data Experience, this data now comes to life with spectacular visualisations in augmented reality (AR). Click on the image below to watch the trailer.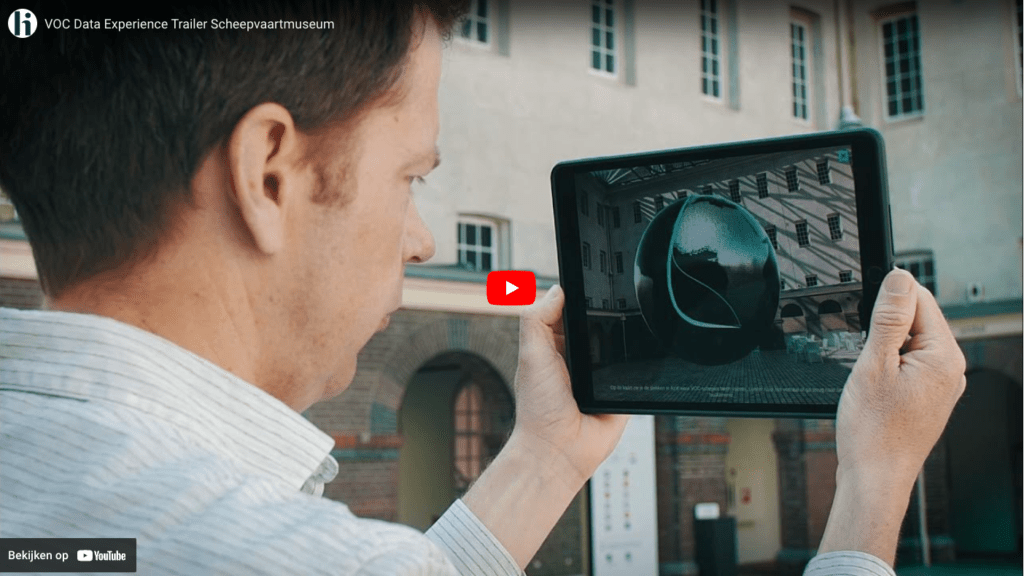 Six experiences in AR
The VOC Data Experience starts with a cloud of names of hundreds of thousands of crew members of the Company's ships. More information is available about each of these individuals. There are also six thought-provoking experiences. In each of these, a theme is highlighted using original data from the VOC. Data expert Lodewijk Petram, together with different heritage specialists or researchers, explain and interpret the data on display.
Where did you come from?
Jelle van Lottum, Professor of Labour Migration Huygens Institute / Radboud University
A map of Europe shows where the crew members of the VOC ships came from. About half came from the Netherlands, the rest predominantly from Germany, areas near the coast of Scandinavia and around the Baltic Sea. Jelle van Lottum talks about sailors and sailors from different regions and also about the career of Christiaan Keems, from what is now northern Poland. Keems made a total of seven voyages for the VOC, married and founded a family in Amsterdam. To what extent can he still be seen as a migrant?
Where did you go?
Wim Manuhutu, Historian, former director Moluccan Historical Museum
Voyages of VOC ships are projected on a large globe. The crews that embarked in Europe did not only sail to Batavia and back. They were also deployed on numerous voyages within Asia. Particularly striking is the intensive contact with the Moluccas. Wim Manuhutu explains the background to this and also talks about the consequences of the intensive contact between the Dutch Company and the Moluccas.
Did you also transport slaves?
Matthias van Rossum, Researcher International Institute of Social History
A large VOC ship appears. Inside, Matthias van Rossum talks about the slave trade by the VOC and its staff. The visualization shows how enslaved people were transported on board, packed together. Estimates of the number of slaves in VOC territories range from 660,000 to over 1.1 million. Far more than the official figures show. This is because much of the slave trade was off the books.
Did women sail too?
Dyonna Benett, Heritage Specialist
52 persons are formed from the cloud of names of VOC crew members. They were women who had posed as men when they signed on. Dyonna Benett wonders why they wanted to work on a VOC ship. Seeing the records of a soldier who was 'unmasked' as a woman only after almost three years, she suggests that this was possibly someone who did not feel like a woman: queer at the VOC.
Did you ever come back?
Suze Zijlstra, Researcher in Maritime and colonial history
A world map shows a stream of names starting from the Netherlands. There is also a stream of names returning from Asia, but it is much smaller. Suze Zijlstra tells what happened to the crew members who sailed with the VOC and never returned to Europe. Mortality was high, first already on the long voyage to Asia, but especially in Asia itself. And there were also crew members who left service in Asia, like an ancestor of Suze.
Who deserves a statue?
Jelle van Lottum, Wim Manuhutu, Lodewijk Petram, Matthias van Rossum, Suze Zijlstra.
The statue of Jan Pieterszoon Coen in Hoorn is known and infamous. In this experience, five statues are being erected that do better justice to the complexity of the VOC past. These include a Moluccan sultan who fought the VOC by its own means, a group of enslaved people who freed themselves and a poverty-stricken but brave Amsterdam orphan boy placed on a pedestal.
Where to see
The VOC Data Experience can first be experienced in the National Maritime Museum (Het Scheepvaartmuseum) in Amsterdam. Thereafter, it travels to the Maritime Museum Rotterdam, the National Archive in The Hague and other locations. More information on where the experience is currently on show can be found on this website: https://vocdataexperience.nl/