Daniel Engel: a maritime career reconstructed
Daniel Engel was a young man from 'Dantsig' (modern-day Gdańsk in Poland) who travelled to the Dutch Republic in the mid-18th century to apply for a job with the Dutch East India Company (VOC). We've written about him before (in this blog post, where we introduced the Company's pay ledgers, one of our main data sources) and now come back to him once more. Not that Engel is so special–on the contrary, there were thousands of men like him in the ranks of the VOC–but because his story is a good case in point for illustrating our work on reconstructing maritime careers.
1766: first journey to the East Indies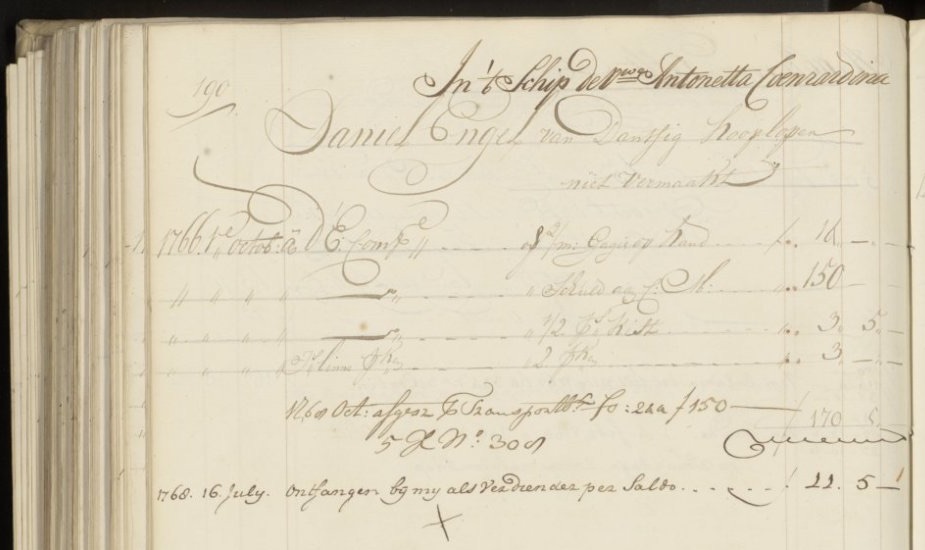 A clerk of the Delft chamber of the VOC recorded Engel's name and birthplace in the pay ledger of a brand new ship called Vrouwe Anthoinetta Koenrardina, that would set sail for the East Indies on 1 October 1766. The VOC hired Engel as a common sailor, on a wage of seven guilders per month. He probably stayed aboard in Asia as he came back to the Netherlands on the same ship in 1768, having worked for the company just long enough to pay off his debt of 170 guilders (which he probably needed to buy his clothes and equipment, and pay for his lodgings prior to departure) and receive a final payment of 11 guilders and 5 stuivers. This is all we can infer about the life of Daniel Engel from his employment record, but we do know more about the environment in which he worked en route to Asia. There were 300 men on board, mostly Dutchmen, as can be seen from the map below, but also quite a few men from the German lands and the Southern Netherlands, as well as a number of individuals from the coastal areas of southern Scandinavia, Malta and Batavia (modern-day Jakarta).
Interrogated by the English
More than ten years later, in 1781, shortly after the beginning of the Fourth Anglo-Dutch War, a Daniel Engel from 'Dantzick' was taken to the Fountain Tavern in Plymouth to be interrogated after his ship had been captured by the English privateer ship Defiance (see this blog post for more on privateering during wartime). He told his questioners that he was 28 years old, worked as a boatswain on a vessel called De Keyser Josephus, and that he had lived in Rotterdam for the past thirteen years. It is likely that this Daniel Engel is the same person as the one who sailed to Asia in 1766, even though he would have been only thirteen or fourteen years old back then. He had switched to the merchant marine: De Keyser Josephus was en route from Curacao to Rotterdam, carrying a cargo of wood, hides, sugar, tobacco, cocoa, coffee and tea.
To Asia again
It seems Daniel Engel switched back to the ranks of the VOC in the late 1780s: there are mentions of a Daniel Engel from Dantzig in VOC pay ledgers from 1788 and 1792. While he worked as a boatswain's mate on his second voyage to the East Indies and back (he returned in the Dutch Republic in 1791), he was an able seamen on his third, from which he did not come back: Engel died in Asia, on 2 October 1798, when the VOC was already in a state of bankruptcy.
Daniel Engel did not rise high through the ranks of the VOC and the merchant marine–he died as an able seamen. By zooming out from Engel, and reconstructing careers of many more sailors, our future research will point out whether it is likely that he lacked the skills to get promoted or changing labour market conditions were to blame.
Newspaper article
Daniel Engel also featured in an article on the Dutch Prize Papers project in Dutch national newspaper Trouw!